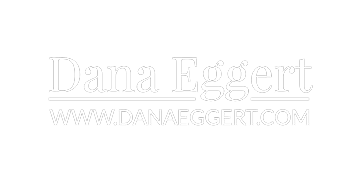 Finding an image to fit her style
Dana Eggert is a Realtor who specializes in fine properties on Maryland's Eastern Shore. She spent years selling real estate in Manhattan as a vice president at Corcoran. After moving to the Eastern Shore, she had to adapt her business and her brand to fit the more relaxed lifestyle of the area and her own personality. Over the course of several years, Dana and I tackled many projects together. Below is a sampling of some of the things we accomplished.
Skills Email marketing template design, photography, Publisher template design, logotype design, Photoshop and InDesign, audio and video production, Final Cut Pro, WordPress web design
Date Completed Ongoing from 2010 to present
Client Dana Eggert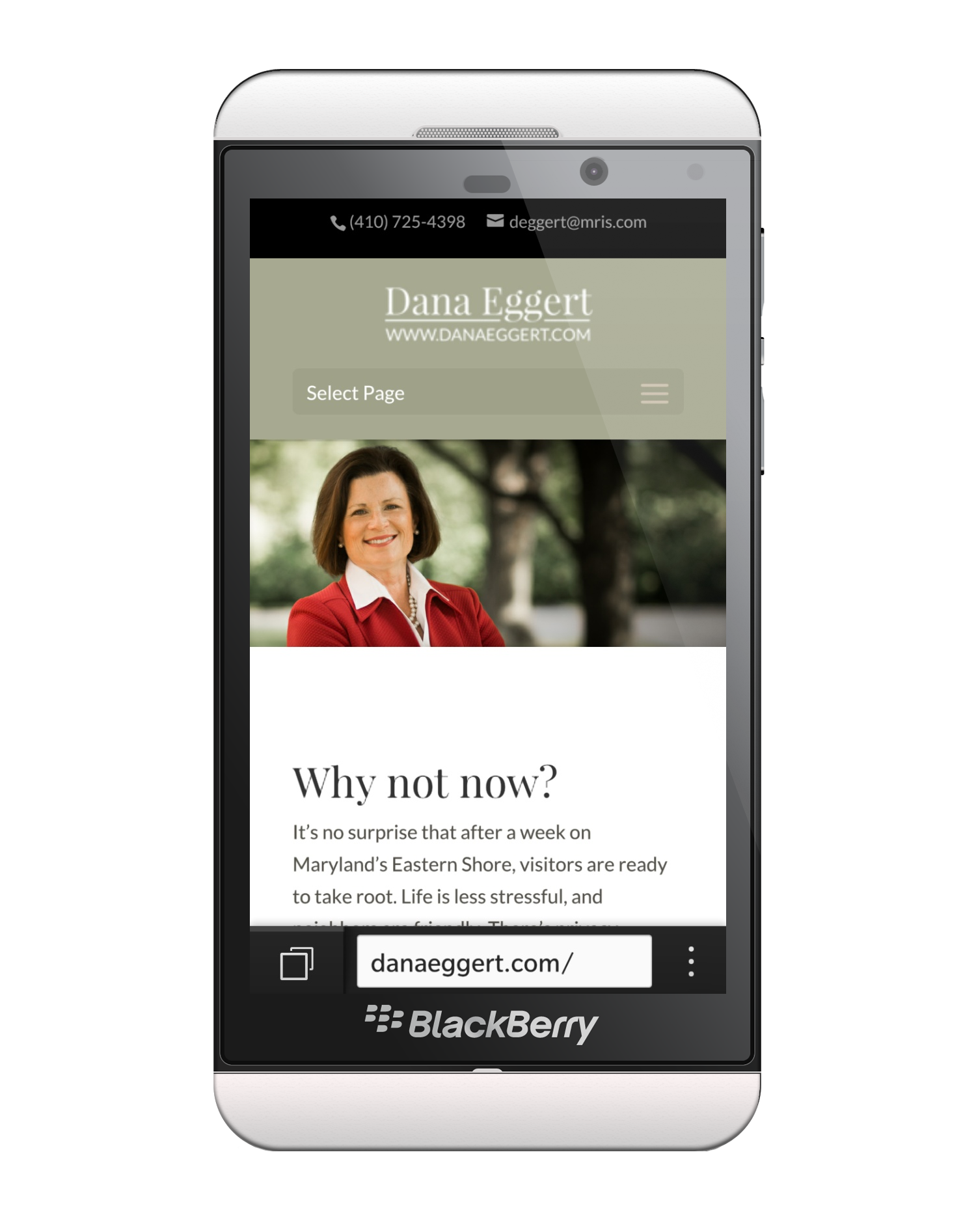 Mobile Friendly
The site is responsive, adapting the any screen you use to browse the web: laptops, desktops, mobile phones and tablets. The site's IDX search (which displays all area listings in real time) works especially well on even the smallest of screens.
Built on WordPress
Dana's site, like most sites I work on, is built on WordPress. This makes cosmetic and content-related updates to the site easy. The site is also easily indexed by search engines.
Tailored for Dana's Brand
When we launched this site in August 2014, it was important that every element worked with Dana's print and web presence elsewhere. The fonts, colors and images used on her site appear in her email and print marketing, as well as on her business cards.
Doing things the new old-fashioned way
One of the things I loved about working with Dana is that she still sees the value in print media. She doesn't regularly spends money on newspaper ads like most agents in the area. Instead, she has seen success in contacting customers directly, meeting them at their mailbox. I've created many standard mail campaigns for Dana, like the postcard shown here. We also spent a lot of time on email marketing, which allowed her to reach a greater number of people for less money. Initially she used Constant Contact, but we transitioned to MailChimp during the summer of 2014.
Keeping things consistent
Dana and I believed that keeping her image consistent inspired trust and showed people how much thought she puts into everything. Every home for sale became part of her product line, which was marketed using the same aesthetic found in the business card and MailChimp emails shown here.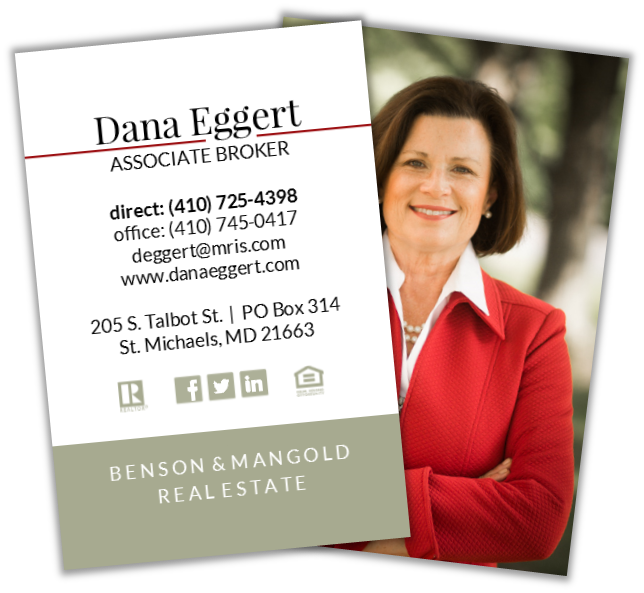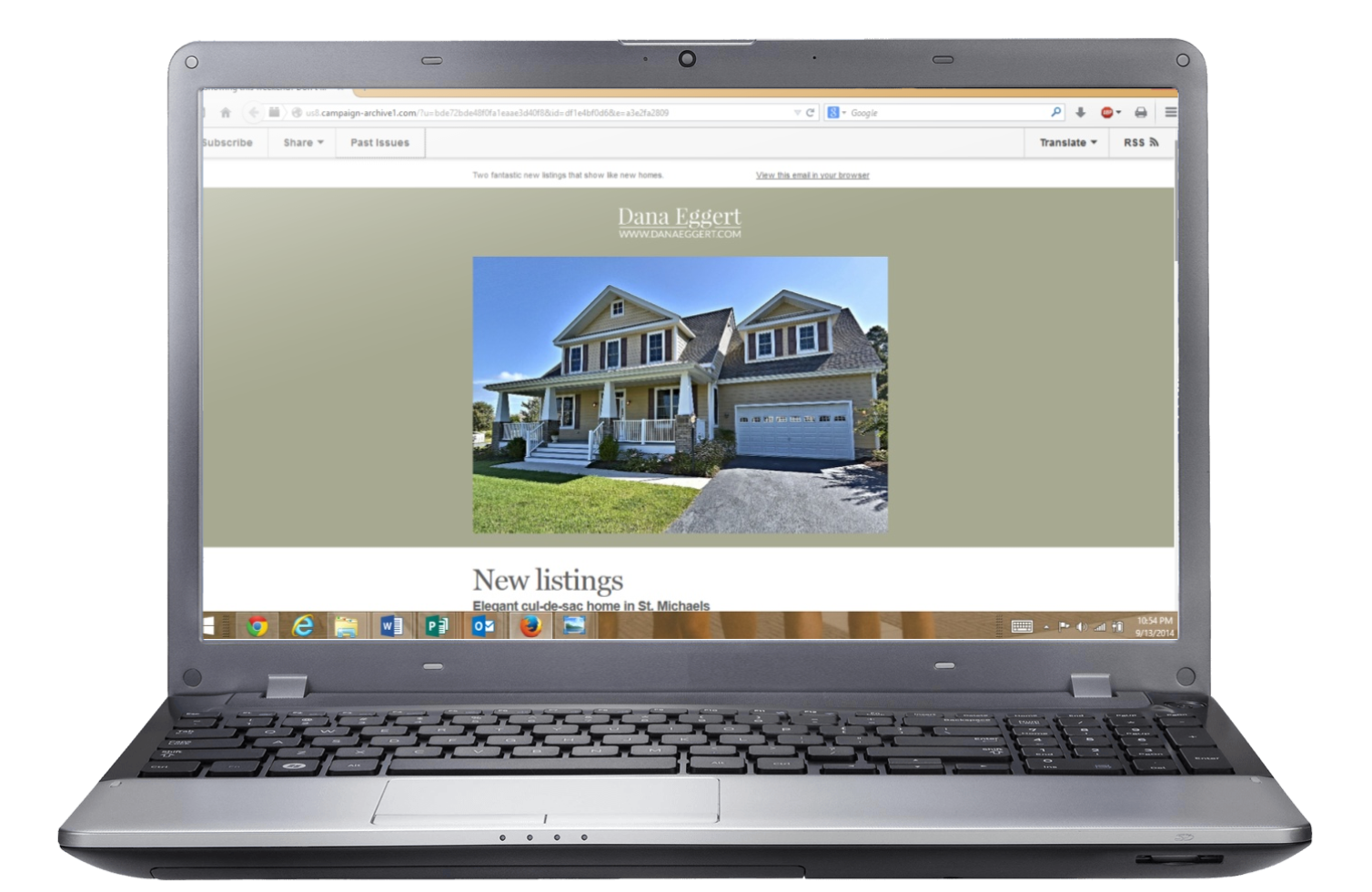 Multimedia efforts
One of the best things about my collaborations with Dana was that she was willing to try anything. One fun project we tackled was creating a series of welcome videos for the towns that attract visitors to Maryland's Eastern Shore. It was a way for me to take advantage of my audio and video editing skills from journalism school and a way for her to potentially reach one more group of clients. We weren't expecting too much when we made them, but she has since gotten calls from people who were browsing YouTube and decided they just had to visit Easton, Oxford and St. Michaels.
More of my work